Congratulations on your new Tesla!
Now, your new Tesla is in your hands and it looks beautiful!
How do you keep it that way?
Protection for your Tesla's delicate paint begins with Ceramic Coatings. There are literally billions of insects, birds, and other natural troublemakers out there, just waiting to ruin your paint – not to mention the dirt and debris that is bound to be kicked up no matter where you're driving. Ceramic Coatings have been proven to protect against these hazards better than any traditional paste wax, and they give your car a head-turning glossy finish. Now you can enjoy your new Tesla around the Valley in style…instead of spending your weekend waxing your ride.
We can protect everything on your Tesla's exterior – paint, brake calipers, wheels… you name it – with easy-to-clean, hydrophobic ceramic coatings. And we can keep your Tesla's ceramic coatings performing their best with proper maintenance and decontamination service that gets rid of any grime, dust, oil, and other build-up that may occur.
Ceramic Coating is Great.
How about Paint Protection Film?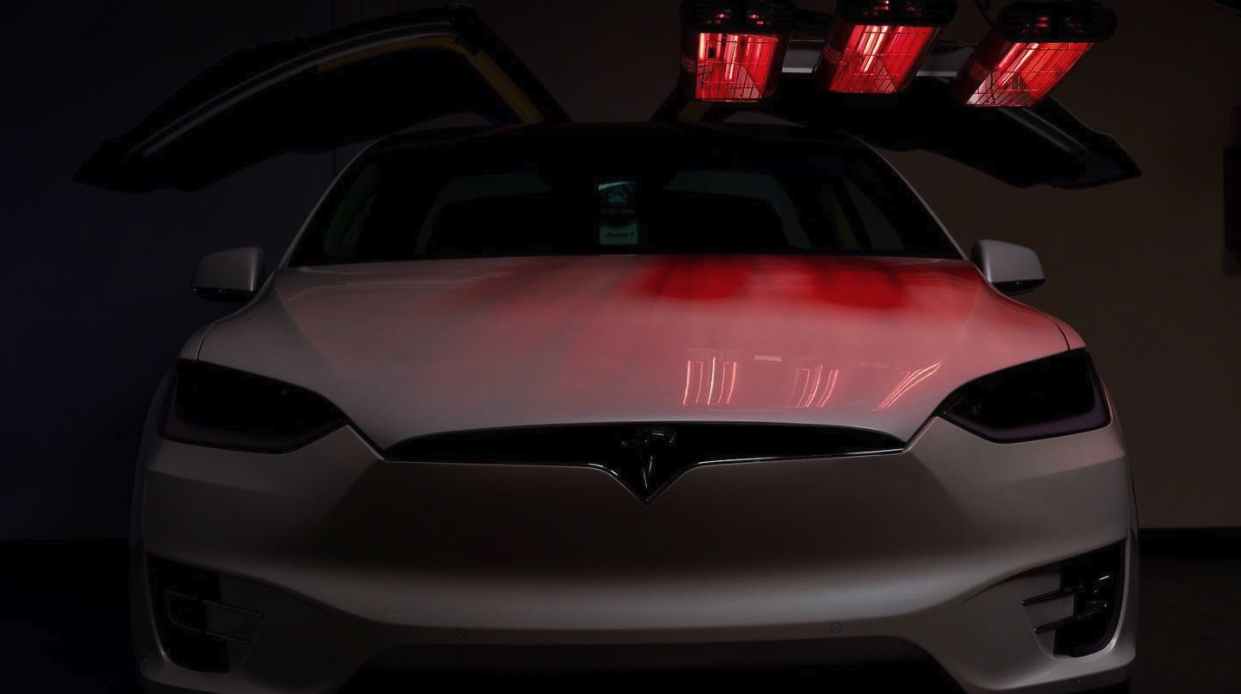 STEK Paint Protection Film (PPF) is a thermoplastic polyurethane material that's about a hundred times thicker than a ceramic coating that wraps your Tesla in a soft protective membrane. The PPF is designed to deflect road debris as well as self-heal from light scratches. Combined with ceramic coating, our PPF will give your Tesla's finish the ultimate in glossy, easy-to-clean protection.
Paint Protection Film can take just about all the abuse the world can throw at it before the actual paint ever even comes into play. A rock kicked up by a semi or a scrape in the parking lot doesn't have to mean a nightmare of color matching, re-painting, blending, and hoping nobody notices. We can simply remove and replace the damaged panel of the PPF itself, and you're back in business. (Just don't expect your paint job to miraculously remain intact if your Tesla somehow becomes involved in a major impact. Even PPF can only do so much.)
Where should the paint protection
film be applied to my Tesla?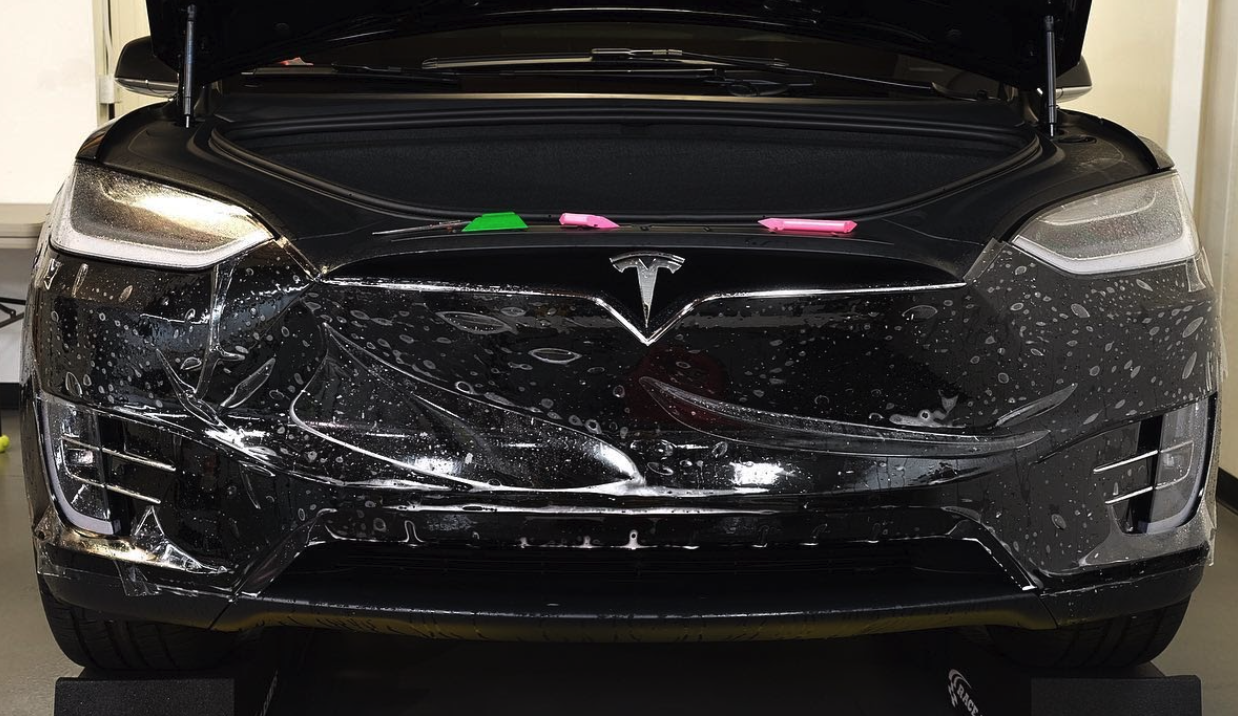 You're going to want the protection of PPF wherever your precious Tesla's paint is most vulnerable. Of course this means the entire front end, including hood, fenders, bumper, lights, and side mirrors, as these will face a constant onslaught of potentially damaging debris when you're out on Fresno and Clovis roads.
You should also consider PPF protection for your rear bumper and trunk jamb area so debris from your rear tires. At Elite Auto Spa we proudly offer the finest in Paint Protection Film which is not only, but its self-healing function is stunning. And once you get a taste of what it's like to have a fully self-healing car, you'll never go back.
Paint Protection film allows you to have a beautifully flawless finishing without the constant visits to the detail shop. Though we do offer phenomenal detail service too.
What about the glass?
Can it be protected too?
There are two types of glass protection. STEK Protection FilmDynoflex is applied to the outside of your windshield to protect it from rocks, debris, and other nasties that could chip, pit, or crack your windshield. Windshield protection film isn't the best option if you're in a rainy climate, as frequent windshield wiper use can cause marring and scratching on your windshield film, eventually causing a distracting (and dangerous) glare.
Now you're probably wondering,
"Should I apply Paint Protection Film to my entire vehicle?
Wrap the whole car? That's a GREAT idea! Only with a full-body PPF wrap will you get the full benefit of our PPF's hydrophobic and self-healing capabilities. You'll also get protection on areas of your car that individual PPF panels would leave exposed, all with a seamless, clean, custom installation. You can drive your shiny new Tesla in any environment with the confidence of knowing it's going to stay that way.
Can I actually drive my Tesla now?
Yes! YES! You've been waiting on pins and needles for this car since the day you ordered it (and probably before). By sending it to us as soon as it arrived, you ensured that it will be as protected as you can get it. NOW you can finally enjoy it – take it out and see what it can do. Protect your Tesla today.